Harvest Community School partners with parents by providing a spiritually sound and academically strong environment that challenges the student to excel in all areas. The emphasis on spiritual well-being is integrated into each day through Bible classes, discipleship opportunities, life-skills and interpersonal skills.
Our goal is to graduate radical God followers who enter the community ready to change the world!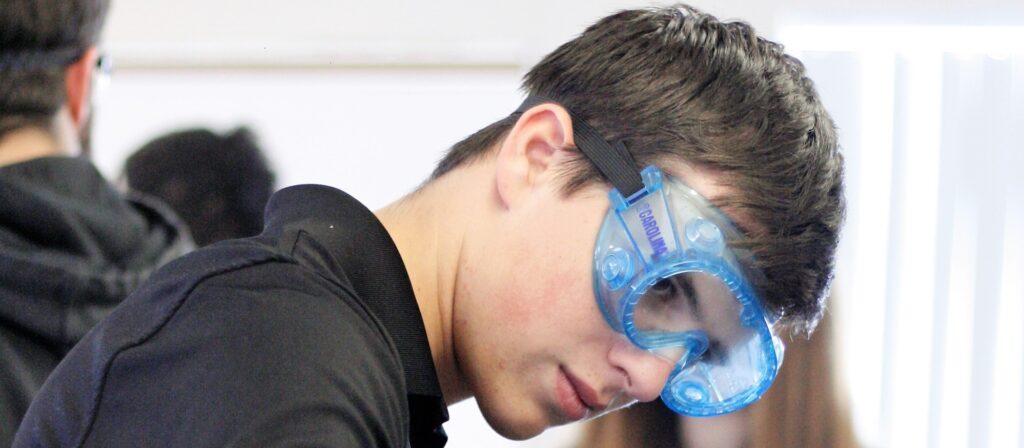 Why Choose Harvest?
Harvest is a community, partnering with parents to provide an environment where questions are encouraged and a passion to live life to the fullest is valued. We believe that Jesus Christ is the author of all things and the creator of all knowledge. We believe that God has given each student a different path and each child a different voice. Listening and encouraging rather than lecturing and mandating are important to us.
High School Profile
Harvest Community High School is a comprehensive four-year private high school enrolling more than 100 students in grades 9 through 12. Harvest opened its doors in 2000 for kindergarten through sixth grades and added a grade each year extending through high school in 2007. Harvest graduated its first senior class of six students in 2009. Harvest is accredited through the Florida Coalition of Christian Private School Accreditation and through AdvancED.
CEEB: 102130
Director: Jack Wilcox
Administrator: Jana Stricklin
Student Advocate: Gionne Marts
Contact: 904.997.1270
Harvest Academics
The Academic Program is organized on an alternating traditional and block schedule. Seven (7) credits per semester is the maximum course load. Students attend two block classes daily. Block classes can be one or two semesters. 
The Accelerated Academic Program consists of higher level courses, including but not limited to Chemistry, Physics, Pre-Calculus/Trigonometry, Advanced Placement and core dual enrollment courses. Harvest considers students who take four or more high level courses, while maintaining a grade of B or higher in high school courses as accelerated.
AP courses are currently offered in American History, Psychology, and Physics
Honors classes are offered in English I, II, III and IV, Algebra I and II, Geometry, Pre-Calculus, Biology, Chemistry, Physics, American History, World History, and American Government.
Dual Enrollment Program – Harvest has an articulation agreement with Florida State College at Jacksonville allowing students to take college courses on and off the Harvest campus. Through articulation, Harvest offers five college courses taught by credentialed professors. Harvest also offers ENC1101 and LIT2000 as distance learning classes with an in-class proctor.
GPA Calculation – GPA is computed using quality points. Honor classes are weighted by .5 point. College and AP courses are weighted by 1 full point. Grades are recorded on the transcript and grade point average is computed in January and May.
Structure & Schedule
Harvest high school classes run on a combination of traditional and block schedules.  Block scheduling, for some classes, provides more time to offer hands-on, applicable exercises with extended classes and the opportunity to dual enroll with Florida State College at Jacksonville.  Math and English are offered all four days as we have experienced higher retention when students attend math daily.  Bible is also offered all four days to provide daily discipleship touch points with students and their Bible teachers. 
Students may choose our Honors graduation track and take all classes on the Harvest campus OR students may choose an accelerated dual enrollment track taking some classes on the Harvest campus and others on the FSCJ campus.
Diploma Requirements
The Harvest high school honors diploma requirements for the 2024 graduating class are as follows:
Four Bible credits
Four English credits
Four Math credits
Four Science credits; two with labs
Three History credits; World, American, American Gov't and Economics
One PE / Health credit
One Fine or Performing Art credit
Two Foreign Language credits; same language
Two elective credits
Teacher Qualifications
All high school teachers are mature Christians whose first priority is to disciple the students, offering Biblical worldview in all classes. The high school team instructs classes within their field, and most are certified or mastered in their subject.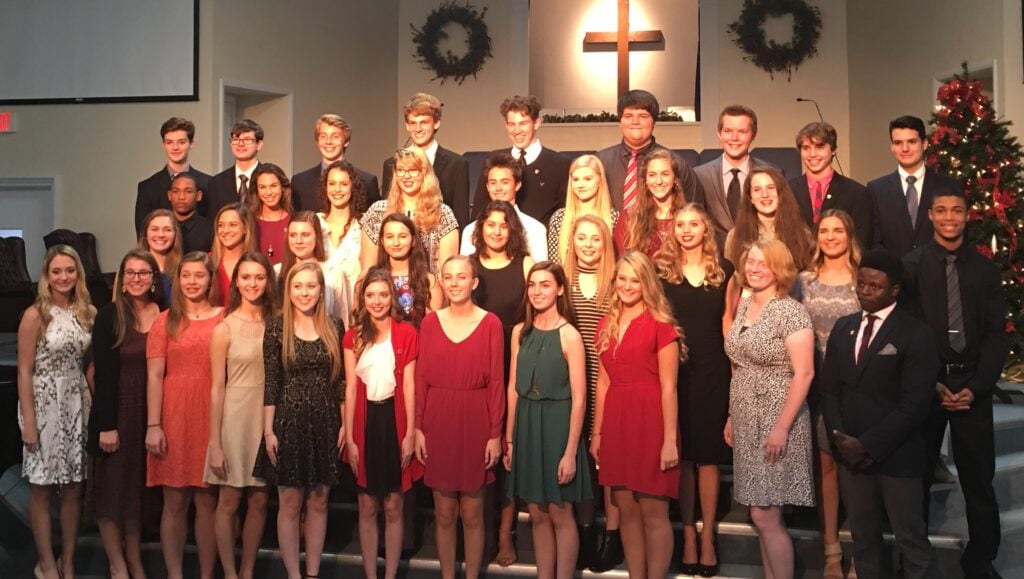 Colleges and Universities Attended by Harvest Graduates
Berry College, GA
Calumet College of St. Joseph, IN
Cedarville University, OH
Embry Riddle, FL
Embry Riddle, AZ
Ferrum University, VA
Flagler College
Florida Atlantic University
Florida Christian College
Florida Southern College
Florida State College
Florida State University
Full Sail University
Grand Canyon University, AZ
Jacksonville University
Johnson University
Liberty University, VA
Maryville College, TN
Norwich University, VT
Olivette Nazarene University, IL
Palm Beach Atlantic University
Regent University, VA
Saint Xavier University, IL
Santa Fe College
South Florida State College
Southeastern University
Southern Virginia University, VA
Stetson University
Tallahassee Community College
Tusculum College, AL
University of Central Florida
University of Colorado, CO
University of Florida
University of North Florida
University of South Florida
University of West Florida
Villanova University, PA
Colleges and University Acceptances (in addition to those attended)
Agnes Scott College, GA
Anderson University, IN
Auburn University, AL
Baylor University, TX
Clemson University, SC
Duke University, NC
Eckerd College, FL
Fairfield University, CT
Florida Institute of Technology
Fordham University, NY
Furman University, SC
Gettysburg College, PA
Harding University, AR
Johns Hopkins University, MD
Kings College, NY
Loyola University, MD
Methodist University, NC
Miami University, FL
Mary Baldwin College, VA
Oral Roberts University, OK
Presbyterian College, SC
Rollins College, FL
Savannah College of Art-Des, GA
St. Josephs University
Tulane University, LA
University of Tampa, FL
Wake Forest, NC
2023 (26 graduates)
Post-High School Placement
11 earned a 4.0+ GPA
4 earned 3.5 – 3.99
8 earned 3.0 – 3.49
3 earned 2.50 – 2.99
Average SAT
Reading: 550, Math:  567, Writing: 544

63% matriculated to a 4 year college/university
15% matriculated to a 2 year institution
23% selected work, ministry based GAP year program or technical instruction
11.5% playing sports at collegiate level 

They were offered over $1,962,016 in scholarships and $14,000 in grants.
2022 (18 graduates)
Post-High School Placement
9 earned a 4.0+ GPA 
4 earned 3.5 – 3.99 
4 earned 3.0 – 3.49
50% matriculated to a 4-year college/university
33% matriculated to a 2-year college/university
17% selected work, military service or technical instruction